Tripawds is a user-supported community. Thank you for your support!
Guess the hard day each month with be the 14th.  Two months ago today I let Lupe go.  I have thought back on that morning a lot lately and some of the reflections have not been good.  The "what if" moments are horrible and doubting decisions while hurtful is a part of grief and healing…hopefully a very short part of it.  I try to remember the good, the happy and the silly and to know that as much as it hurt me to let her go, keeping her would have hurt her even more.
I had a spirit reading last week and have had time to reflect on it a little.  One of the things the reader said is that she sensed a dog.  She described it as small and light colored…now all of my dogs have been under 20 pounds and most of them white.  This dog wasn't white though.  She said it was adorable and looked like a stuffed animal, she focused closely on its face and then drew this.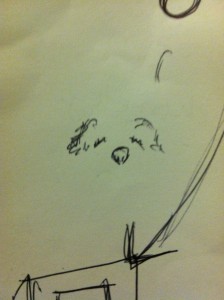 I honestly could not speak so we moved on.  At the end we came back to the dog and she said it wasn't tan or beige but lighter than that, almost blonde and kind of scruffy.  She had first mentioned a terrier (which I have never had) and then said the breed was something with a "c" but not a collie.  Cocker spaniel?  Yes similar hair but not exactly…so I said cockapoo and she said yes.  This dog was being loved and held by women and she got a sense of true happiness when she looked at it.  There were other things she said but seeing her draw the face just floored me.  If our loved ones can come forward why wouldn't they include our beloved animals?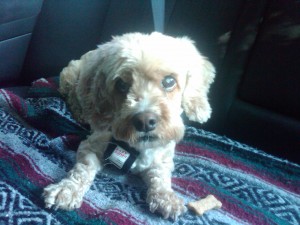 So while I am sad today, I do feel comfort in knowing that she is happy, healthy, safe and warm in someone's loving arms (reader hinted that the woman was either one of my grandmothers or my mom…and this was before she knew my mom had past).  And I continue on with my memories to keep me going and my tears to remind me that I have truly loved and been loved.  Be well my sweet Lupedog.