Tripawds is a user-supported community. Thank you for your support!
So the purple menace has made it to Boston (well, the suburbs of…he hasn't "officially" been into town, yet…)
This past weekend he took a trip to Western MA to meet some of Lupe's family and see the sights of the area (there aren't many…)
I explained the whole Kill Barney Tour to my brother, father and father's girlfriend and they think it is a wonderful idea.
Barney met Sugar, my dad's "maltese" (we have our suspicions that she's a mix with either a Bichon or a Poodle).  Sugar is about 4 years old and followed Lupe around like a puppy, oh wait, she is one.  She's definitely not the best behaved dog and is not normal in any way, but she means well and had fun with Barney.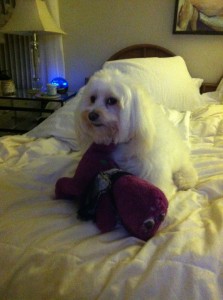 Barney also went to probably the biggest thing to see in Springfield, the Basketball Hall of Fame.  He didn't go in but he was excited to be in the birthplace of basketball.