Just before New Years Barney had an overnight with another of Angel Lupe's "Aunties"…she had a lot, hey my friends adored her and on their own declared themselves official "Aunties"…what can I say she was a rockstar 🙂
This one with with her Auntie Dawn and her dogs, Shilo, Koda and Angel Jaxx.  Barney wanted to see Gillette Stadium so in a driving snow storm, we took him to Foxboro.  Unfortunately, we couldn't get too close to the stadium, there was a game the next day and the snow was pretty bad, but he was excited to see the home of the Pats!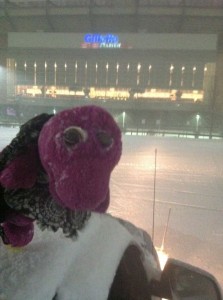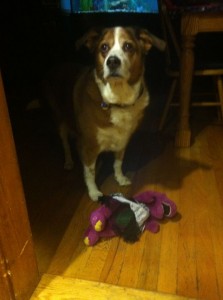 Then Koda decided she couldn't let Barney just sit on the counter or pose for pictures, he needed so quality chew and playtime…so she took it upon herself to give him so pitbull love.  Honestly, we were concerned that this could have been the end of the purple guy…Koda is pretty rough with toys (she has destroyed a number of the "indistructible" Kongs).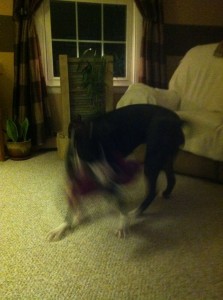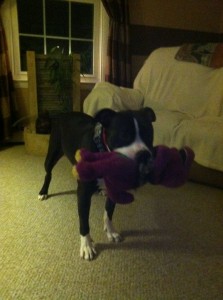 It took quite a bit of coaxing to get Mr. B from her jaws but we were successful and he was in one piece…a little stinker and VERY dizzy!
In the next post, Barney will share with you his visit to town (Boston & Cambridge)…unfortunately, his travels around the city were hindered by snow but he did get to see a few of the big sights and had a blast doing so 🙂