Barney finally did make it into Boston!  I live and work in the suburbs so Angel Lupe's Auntie Maria (see previous post and below for picture) took a special trip in to show Barney around…it was the day after a pretty decent snowstorm so some of the planned stops had to be cancelled.  It wasn't a duck tour but we had a blast!
First stop was a scared place to the members of Red Sox Nation…Fenway Park!  The park was closed but Barney got to explore Kenmore Square and see the oldest ballpark in the major leagues.  Honestly, if his visit was during the season, I would SO have brought him to a game.  There is something electric about this stadium, the noise of the crowd, the crack of the bat and singing Sweet Caroline during the 8th inning.  I've been to about 1/2 of the major league parks and while I think the new ones are amazing, Fenway is a must see…I've even had Yankees fans agree to that statement 🙂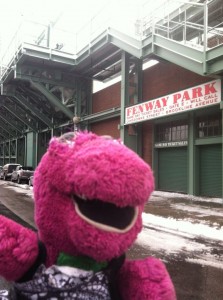 From there, Barney crossed the river into Cambridge to gaze upon the oldest institution of higher education in the United States, Harvard University.  He got to see Harvard Square (which is a lot of fun if you ever get a chance to come to the area, fun shopping, good food and a great place to just walk around) and insisted that I pull over and get a picture of him in front of Harvard Yard…mind you it was a no parking and no standing zone, but how could I resist?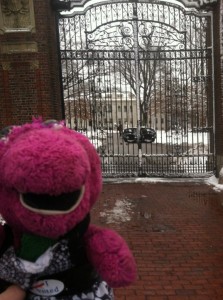 There were tons of people walking around and I got a lot of funny looks and snickers for holding a raggedy purple dinosaur in a skull dress up for a picture…like that would bother me?!  Noticed the gates are locked…they know better than to let a houligan like Barney in to such a prestigious institution 😉
Barney crossed the Charles again passing the waterfront (couldn't get near the U.S.S. Constitution unfortunately) and the North End (the Italian neighborhood…awesome food and Mike's pastry shop is a must stop for cannoli…the line moves fast and its worth the wait!) on the way to Quincy Market and Faneuil Hall.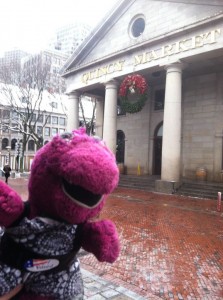 Barney was so excited to see this historic area, especially when I explained to him that this was a meeting place for the colonists just before the Revolutionary War and is referred to as the "Cradle of Liberty".  We tried to get over to the Cheers that on the other side of the market but it was closed.  This is not the original "Cheers" which is the Bull & Finch over on Beacon Hill, but a replica of the tv set…Barney had said he wanted to sit on the bar, next to a Sam Adams and have people call out his name like they did with Norm.  Speaking of Sam Adams, I had also hoped to take Barney to Sam Adams' grave but it was covered in snow and so were the duck statues from the book "Make Way for Ducklings"…darn snow!
On New Years Eve, Barney came with Maria and I (in spirit only) to a concert at the House of Blues on Landsdowne Street (right across from Fenway Park).  The Mighty Mighty Bosstones were playing the last of their 3 night annual shows and I became a huge fan of theirs back in college.  It was a great way to say good bye to 2012 and hello to 2013, singing and dancing around.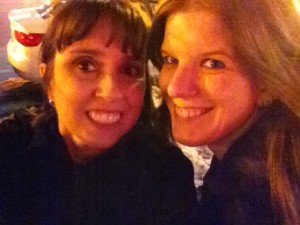 The Bosstones put on an amazing show as always!  Their set was spectacular, they had a replica of the CITGO (or when a Bosox player hits a homerun…C It Go!) with working lights and the were wearing tails and top hats…no plaid but hey it was a fancy affair.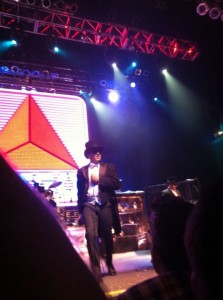 Barney's time with me is coming to an end…I'm just waiting to hear back from his next host for him to move on.  I truly enjoyed having him stay with me.  I know Lupe would have loved to see him, cuddle him, chew on him and of course smell him.  The spirits of the tripawd warriors is within him and now Angel Lupe's has been added.
Thank you all who have participated in this and his other adventures.  Thank you Spirit Jerry and your pack for keeping this going.  And to the purple menace, thank you for bringing fun and happiness in my life in a way I didn't think was possible for a stuffed dinosaur to do 🙂
Round and round he goes, where he'll end up nobody knows…well, for now only a few do 🙂